The primary function of the hatch covers is to protect the cargo from the entrance of water, and allow as large access to the cargo holds as possible while maintaining the strength and watertight/weathertight integrity of the vessel.
The failure of the hatch covers can cause damage to the cargo, loss of stability and ultimate defeat of the vessel.
Hatch covers must also meet the SOLAS convention requirement, Loadline convention, and Classification society rules.
How to choose the hatch covers 
The type of ship and its purpose determines the type of hatch covers. These include the modern multi-purpose cargo vessel, the roll-on/roll-off ship, dry cargo vessel, ferries, vehicle carriers as well as many other different ships.
While hatch covers must be watertight, they must also provide an efficient and effective time-saving method of access.
Hatch covers must be strong to resist the dynamic forces exerted by heavy seas which may break over them.
Heavy seas may also cause a vessel to flex, to hog, sagging, to rack and twisting. 
Ships are not rigid structures and are designed to be flexible to minimise the stresses on the hull.
Rolling and beam seas may also cause sideways movement of the hatch covers. This means that the covers must be able to flex and move slightly while retaining water tightness.
The watertight integrity of the hatch covers in the forward 25% of the vessel is particularly important as this is where sea loads are at their highest.
The basic design of Hatch Covers
The hatch covers must be very robust because when closed, it is often required to load heavy load.
However, they must not be rigid when secured because the ship when underway will move, and this can bring to a damage of the entire hatch structure.
All hatch covers should have some form of drainage to remove slack water from the covers and around the coaming bars and to prevent the possibility of water entering the hold and damaging the cargo.
Hatch covers must also have an operating system that will enable them to be opened and closed quickly and efficiently to save downtime.
Hatch Cover Types
There are several basic types of hatch covers described below.
These include:
Pontoon and tarpaulin
direct pull
folding hatch cover
Folding Covers
Roll Stowing Covers
Side and Rolling Covers
Lift and Roll Covers
Sliding Tweendeck covers
Pontoon covers  
Pontoon and Tarpaulin hatch Covers
This type of hatch covers are still found on some older, and smaller, bulk and timber carry.
Several full-width steel pontoons are fitted across and within the hatch opening, loosely butting-up against each other with no mechanical seal.
CONSTRUCTION
The pontoons are usually of the all-welded, steel box type.
SEALING SYSTEM
There is no mechanical sealing system fitted with this type of hatch cover.
The hatches and holds are maintained in a weathertight condition using the tarpaulins fitted over the pontoons.
Direct Pull hatch Covers
These can be found in general cargo vessels and smaller bulk carriers. Multi-panel covers may· be operated by a wire, activated by the ship's gear, usually by deck cranes or winches.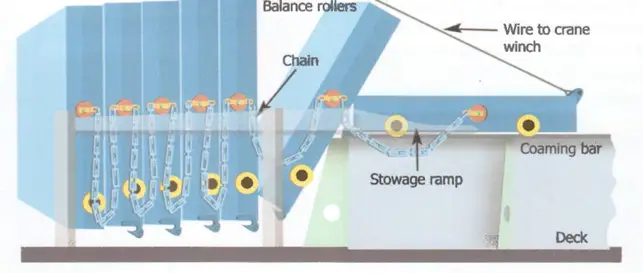 CONSTRUCTION
Panels are independent of each other when lifted as the link only connects them chains at each side.
SEALING SYSTEM
This type of hatch cover generally uses the double drainage system; This system incorporates a rubber seal, retained in the seal channel around the hatch cover edges, that presses against the top edge of vertical steel.
Folding hatch Covers
These will be either hydraulic or wire operated and may be fitted to the weather deck and tween deck hatchways. 
The covers may be of flat-topped panels, box or single skin design.
Folding covers are increasingly being fitted for both weather and tween deck use in general cargo and multi-purpose vessels.
This design has been developed into various other designs including:
Foldit hydraulic folding link-link hydraulic folding hydraulic ram operated hydraulic hinge operated.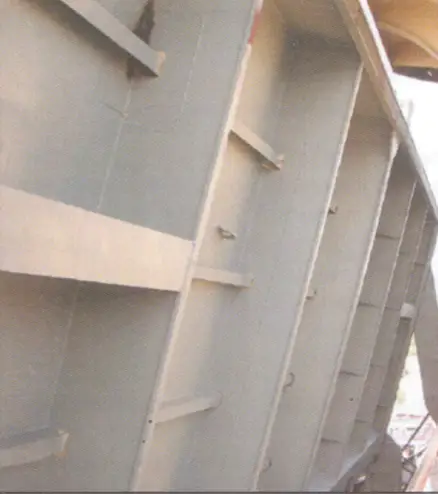 CONSTRUCTION
Folding covers have a flat steel top and are fabricated from all-welded steel panels.
Sides ends, and in the case of box type bottom panels are also of welded steel panels.
SEALING SYSTEM
This type of hatch cover incorporates the double drainage sealing system.
As the hatch cover starts to open, the leading wheel rides up an incline on to the raised wheel track, keeping the seals clear of the coaming bar.
The reverse applies during closing
Roll Stowing hatch Covers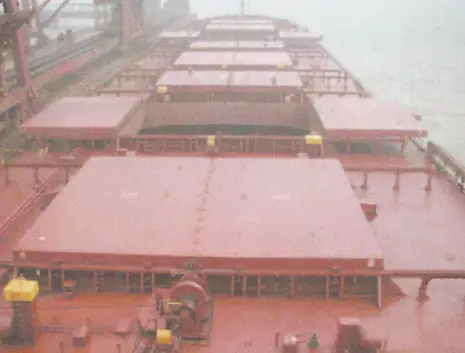 Fitted to general cargo vessels and small to medium bulk carrier weather decks.
The hatch cover consists of a number of panels spanning the hatchway, which are hinged at each of the cross joints.
This type is also popular on small general cargo vessels and inland waterway vessels.
CONSTRUCTION
Roll stowing covers are full width, single skin, flat steel top and fabricated from all-welded steel panels
SEALING SYSTEM
This type of hatch cover tends to have a neoprene packing material retained in a seal channel around the edges of the panels,
Side and Rolling hatch Covers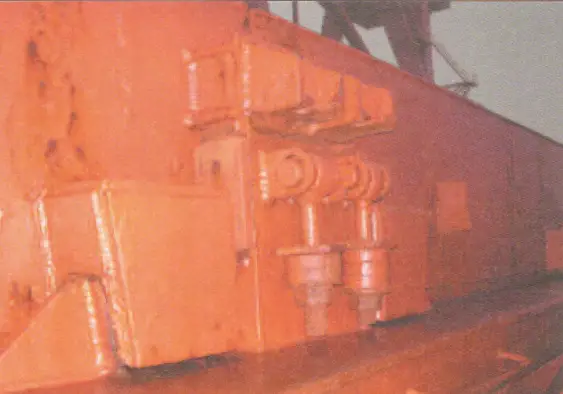 Generally fitted to large bulk carriers
These consist of two large panels at each hatchway which opens athwartships. They are extremely heavy and require hydraulic
lifting to raise them into a rolling position.
The cover panels open sideways, the centre joint being along the centre line of the vessel.
CONSTRUCTION
Side and rolling covers are generally single
skin but may also be box type, flat steel top,
fabricated from all-welded steel panels.
SEALING SYSTEM
This type of hatch cover uses the double the drainage system, with a compression bar extending the full perimeter of the coaming
bar.
The two panels come together with a direct facing seal system there being a compression bar on one cover and a matching rubber seal on the other.
A drain the channel is positioned beneath the seal, which drains to the forward and aft coamings on to the open deck.
Non-return drain traps are also fitted on port and starboard, forward and after ends.
Lift and Roll hatch Covers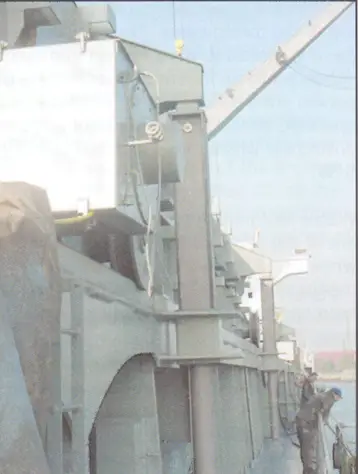 Generally fitted to combination carriers, bulk carriers, container ships and multi-purpose vessels.
They are very popular for large specialised forest product (timber) carriers and multi-purpose vessels with box holds.
In theory, there is no limit to their size. There can be two panels for a 26 m x 23 m hatchway and more for larger hatches.
CONSTRUCTION
They are generally constructed with a double skin type steel pontoon design.
There is a flat steel top fabricated from all welded steel panels.
The sides ends, and bottom panels are also of welded steel panels.
The covers are strengthened internally by thick and deep longitudinals providing longitudinal strength, with transverse floors of smaller scantlings to provide rigidity with the ability to take loads on top, e.g. logs.
SEALING SYSTEM
This type of hatch cover may adopt either the Cat system or double drainage system.
Sliding Tweendeck hatch Covers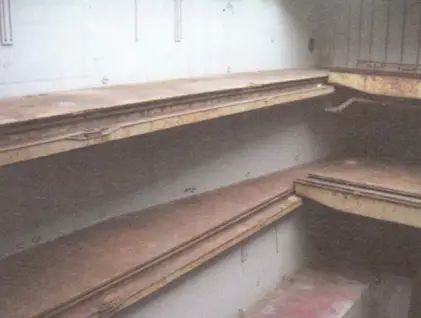 Tweendeck hatch covers are made up of a number of two section plates that slide under each other to expose the hatchway.
These covers are not generally required to be watertight.
Additional sealing will be used if tween decks are to be used for bulk cargoes, with other cargoes being
stowed in lower hold spaces.
CONSTRUCTION
Tweendeck covers have a flat steel top fabricated of all-welded steel panels, with the leading edge faceplate also made of
welded steel.
Pontoon hatch Covers
Sometimes known as Lift-Away hatch covers. Generally fitted to roro, lolo, container and heavy lift vessels.
Container vessels can range from 200 to 12,000 teu capacity. The small vessels may have only one hatch cover fitting across the hatch while the larger ships may have twin, triple, or four panels across the width of the hatch opening.
The panels will be slightly longer than 40 feet so that when removed they allow access to a set of 40′ cell guides.
CONSTRUCTION
Smaller vessels may have single skin covers. The flat steel top is fabricated from all-welded steel panels.
Sides ends and, in the case of box type, bottom panels, are also made of welded steel panels.
Thick and deep longitudinals strengthen them.
SEALING SYSTEM
There are many designs of cross joint sealing. In some vessels with three panels athwartships, there is no cross joint seal at all between the centre and outboard panels, there is a 75 mm high wash plate or weir fitted on the cover panels, each side of the cross joint gap.
CONCLUSION
In this article we covered many types of hatch covers, that we can found on board of the vessels, comment below what do you think about the ship hatch covers and their importance.