About 70 cruise companies operate around 350 ocean-going cruise ships, plus over 1,000 river ships, all providing cruise vacations.
A vacant with a cruise ship can offer a fantastic experience, and with a lilted bit of organization, it can be more smooth before to start.
For your first cruise, you'll need to do a little planning to find the right ship and sail to suit your needs – whether you are a solo traveler, a young couple, a family with children, or well-traveled seniors.
Before discovering the tips for your first-time cruise, let's see some exciting topics.
What exactly is a cruise?
A cruise is a particular place where You will sleep on the same bad every night, and the ship will take care to change the scenario for you.
You can explore new places and make new friends. It can facilitate multi-generational togetherness, solo adventuring, or escapism for couples. Some of the world's most beautiful places are best seen from the deck of a cruise ship.
What a cruise is not
Some cruises aren't relaxing; you need to choose the right ship before starting your first cruise.
For example, large resort ships carrying over 5000 passengers and providing almost endless activities and entertainment were not precisely what a relaxing look like.
Before to see the best tips for your first time cruise, take a loog to the 8 reason why make your first cruise:
8 REASON TO START A CRUISE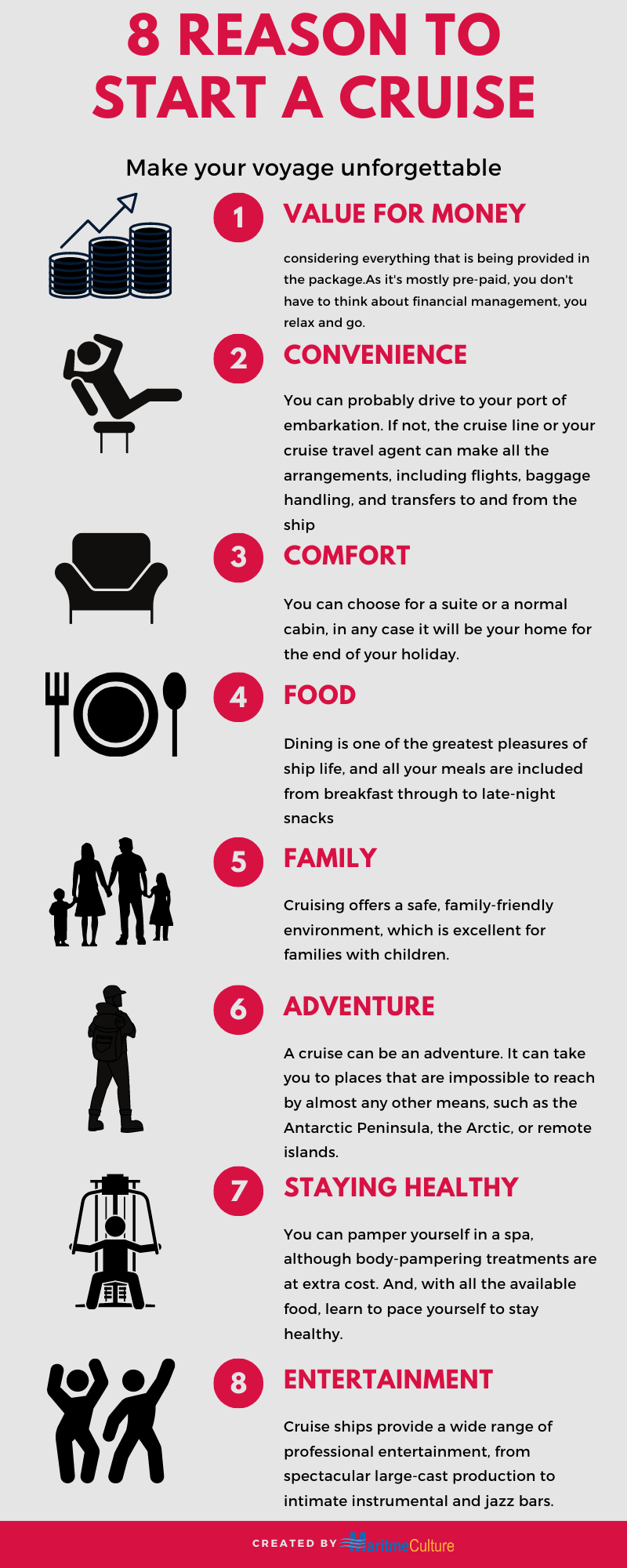 Value for money. A cruise represents excellent value for money, considering everything that is being provided in the package. As it's mostly pre-paid, you don't have to think about financial management, you relax and go.
Convenience. You can probably drive to your port of embarkation. If not, the cruise line or your cruise travel agent can make all the arrangements, including flights, baggage handling, and transfers to and from the ship. And you only have to unpack once during the vacation!
Comfort. A suite or cabin is your home away from home. It can be as small as large.
Food. Dining is one of the greatest pleasures of ship life, and all your meals are included from breakfast through to late-night snacks; most ships can easily accommodate specific dietary needs.
Family togetherness. Cruising offers a safe, family-friendly environment, which is excellent for families with children, and many ships have good children's facilities and well-supervised activities for kids. Cruising is also a perfect way for groups of friends to vacation together.
Adventure. A cruise can be an adventure. It can take you to places that are impossible to reach by almost any other means, such as the Antarctic Peninsula, the Arctic, or remote islands. A cruise can inspire the explorer in you.
Staying healthy. You can pamper yourself in a spa, although body-pampering treatments are at extra cost. And, with all the available food, learn to pace yourself to stay healthy.
Entertainment. Cruise ships provide a wide range of professional entertainment, from spectacular large-cast production to intimate instrumental and jazz bars. And during the day, there are activities galore – enough to keep even the most active occupied.
Now it is time to see the ten tips to make your first time cruise amazing:
Ten steps to an excellent first-time cruise experience
1. Find a cruise. Take a specialist cruise agent. Describe your preferences (relaxation, visiting destinations, adventure, activities, entertainment, etc.), so that your agent can find a cruise and ship that is right for you, for the right reasons, and at the right price.
They can guide you through all the essential details, such as the choice of cabin, dining arrangements, and ships best suited to your needs. They may also have insider tips, knowledge about upgrades, and pre- and post-cruise programs.
2. Where to go? Choose where you want to cruise (Bahamas, Bermuda, Caribbean, Alaska, Hawaii, US East Coast, the Baltic, Northern Europe, Mediterranean, Indian Ocean, Southeast Asia, Australia/New Zealand, South Africa, South America, South Pacific, etc.). When you want to cruise: Alaska, for example, is not available during the winter; the Caribbean may be too hot for you in summer; Northern Europe is best in the summer, although South America and Southeast Asia are best in the winter. If you are interested in a particular theme, such as Carnival in Rio or Formula One racing in Monte Carlo, this will determine your cruise's time.
3. How long? Decide on the length of the cruise you can afford to take. Allow traveling time to get to and from your ship, mainly if it is in an area far from home, or during winter. The standard Caribbean cruise length, for example, is seven days, although short-break Bahamas or Mexican Riviera cruises for three or four days are popular, too. In Northern Europe, 12–14 days are more typical, while for an around-South America cruise, you'll need 30 days or more. Visiting the Antarctic Peninsula allows 14–21 days, while an around-the-world cruise will take 90–120 days.
4. Choose the right ship. Size matters! Choose the right size ship for your needs. Do you want to be with 100, 500, 1,000, or 5,000-plus others on your vacation? Generally speaking, the larger the ship, the greater the focus on the ship as the destination.
Or perhaps you would like to experience cruising under sail or with specialist lecturers, or an adventure/expedition cruise, or a coastal and inland waterways cruise.
5. Choose the right cabin. For a first time cruise, It is suggested (obviously considering the budget).choose an outside-view cabin. It can give you a fantastic view every time you wake up. However, interior no-view cabins are useful if you like to sleep in a dark room. If you are concerned about motion sickness (it's not common, but it can happen), choose a cabin in the ship's center.
The average cabin size aboard a large resort ship is 180–200 sq ft (17–18.5 sq m); anything less and you will feel cramped. With limited closet space, you'll need fewer clothes than you might think. The more space you want, the more it will cost. Today, many passengers like to have a private balcony.
6. Dining. If the ship has two seating for dinner (many large resort ships do), it could be wise to choose the later seating (typically 8:30 pm), so that you have enough time ashore when the ship is in port without having to rush back to shower and change for the first seating, which is typically at 6:30 pm.
Some ships have several dining venues, and you go where and when and with whom you like – though some may cost extra.
7. Health and fitness. If you are interested in body-pampering treatments, ask your agent to ensure that your ship has the right adequate facilities. Aboard large resort ships, you'll need to sign up for many exercise classes, and there may be a 30-minute time limit to use the treadmill or video bike.
Book early for spa treatments, because appointment slots go quickly. Some cruise companies allow you to book online, but this means planning your time.
8. Families. If you are traveling with children, choose a family-friendly ship. Most large resort ships have adequate facilities to help everything run smoothly with youngsters; mid-size and small ships have limited facilities, and some have none. Children usually love cruising, finding it educational, fun, pleasant, and safe.
For those who don't want children around them, there are several child-free ships to choose from.
9. Dress codes. Dress codes today tend to be casual, aboard the large resort ships. In general, no formal dress attire is needed. However, there are exceptions to this, such as a transatlantic crossing aboard Cunard's Queen Mary 2, where more formality is part of the tradition. Ships move around, so flat or low-heeled shoes are strongly recommended for women.
10. Extra expenses. Finally, you'll need to budget for extra-cost items such as shore excursions, drinks (unless they are included) and drink 'packages,' meals in extra-cost dining venues, spa treatments, gaming, and other personal items. Also, allow some additional money to cover souvenirs and other purchases. Last but not least, make sure you have full insurance cover for your vacation.
Conclusion
We arrive at the end of this article, of the ten tips for the first-time cruise, follow these tips to enjoy your vacation and to make your travel a fantastic experience.