Introduction
On this article we will se the 11 Most common types of shipping containers 2020.
Over 50 percent of the containers available internationally belong to shipping companies. Alongside these are a large number of leasing companies, which lease their containers both to shipowners and to direct customers.
Containers tend to carry dry and liquid bulk goods, for which bulk and tank containers are the main in use nowdays.
List of types of shipping containers sizes and types
According to DIN ISO 4346 of January 1996, a distinction may be drawn between the following Types of shipping containers:
"Over the years, expressions have become established which do not always correspond to the standards or which are used in addition to the standard expressions."
1.General purpose containers
The term standard container was used for the first containers in their basic form. As these were closed and were primarily suitable for the loading of general cargo, they are also known as general purpose containers, dry cargo containers or box containers.
The initial height of 8′ has already very nearly been
consigned to history. Most box containers have an external height of 8′ 6″. Unventilated general purpose containers have openings on either one or both end(s).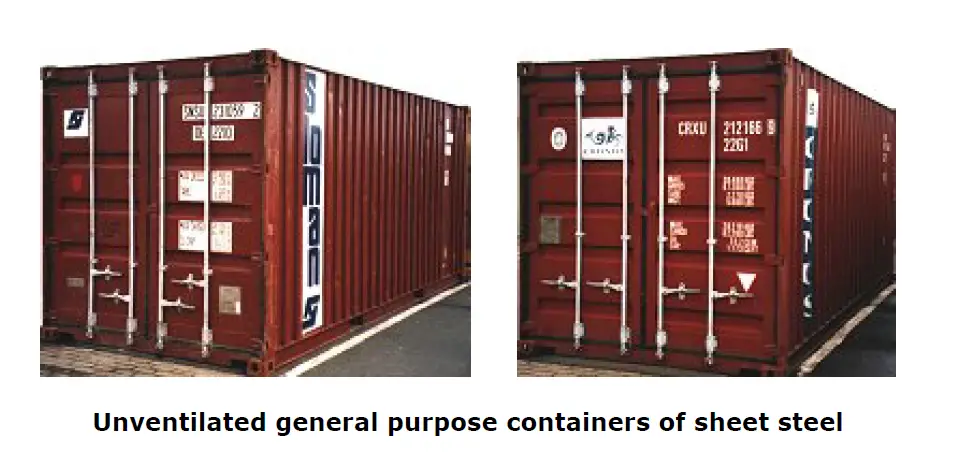 Containers with end doors and side doors occupying the entire length
Another subgroup of unventilated general purpose containers specified in DIN EN ISO 4346, January 1996, has "openings at one or both end(s) plus full openings on one or both sides".

2.Open-sided containers
have solid end walls and a solid roof panel. The sides may be close at the bottom by folding down wooden, aluminum profile or steel sheet side walls, which may be divided into sections.
Open-sided containers also exist which are open only on one side.
the containers is mainly in use for transporting livestock

3.Open-top open-sided containers
combine the features of open-sided and open-top containers, i.e. the roofs and sides are open and need to be covered with tarpaulins.
Dimension problem
Since it is American transport that gave rise to the 8′ wide standard overseas container, these containers are not suitable for the interchangeable pool pallets in use for the Europe, which have dimensions of 800 mm x 1,200 mm.
Compatibility
To counter this problem, pallet-compatible containers 2.50 m in width have been constructed, which must not, however, be confuse with the pre-existing inland containers 2.50 m in width.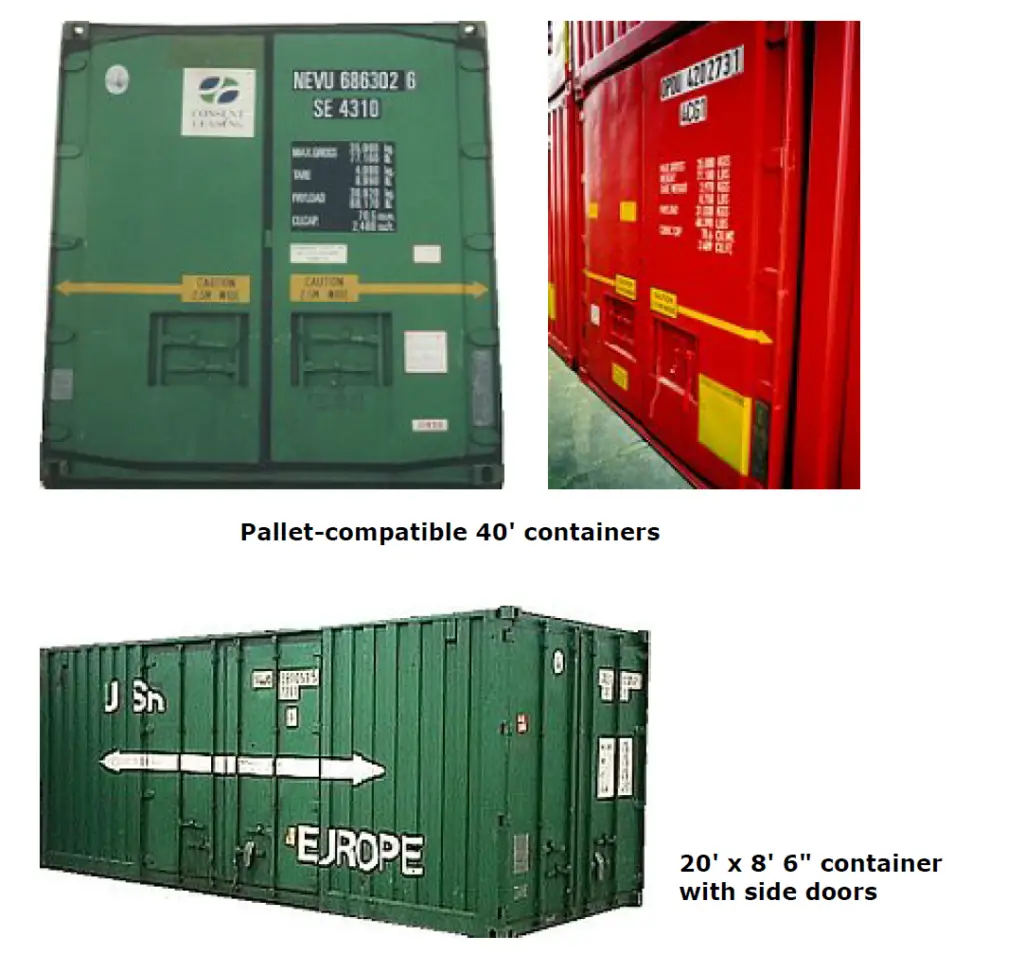 4.General purpose containers with special features
are intended to make it possible to transport particular
cargoes which could not otherwise be safely transported without damage.
Containers for hanging garments
belong to this group: they are equipped with clothes rails which are attached to special supporting bars. Textiles,
hanging on coat-hangers, can be carried in these containers.

-SECOND PART
5.Ventilated containers
They are used for the most part to transport organic cargoes with high moisture contents, such as coffee and cocoa beans. Special equipment is intended to ensure that, as far as possible, sweat is prevented from forming.
There are two basic variants:
1.Containers with natural ventilation use pressure differences between the internal and external air for air exchange purposes. Warm air rises in the container and exits at the top through the roof ventilation strips. Cooler external air then enters through the floor ventilation strips.

2. Forced ventilation containers use fans and air ducts and/or ventilation flaps to achieve the necessary air exchange.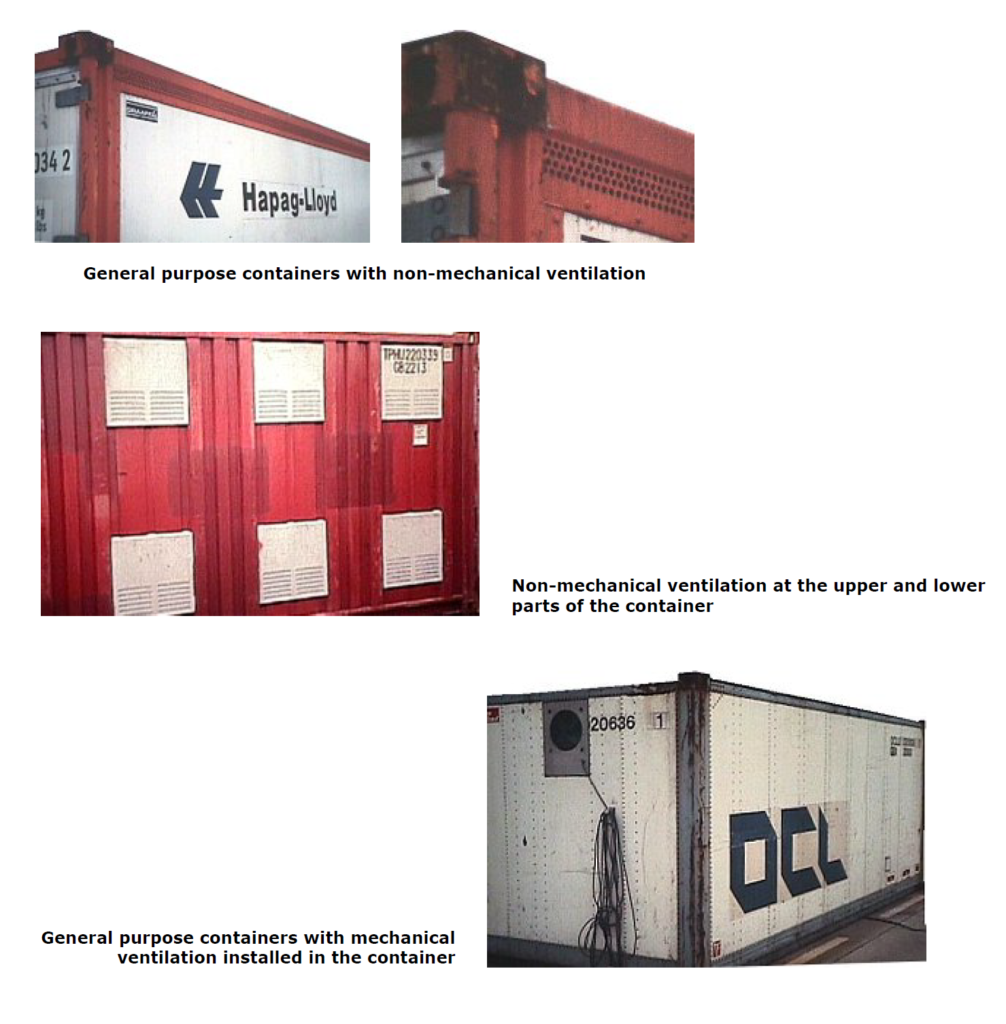 6.Dry bulk containers
Bulk containers may be used to transport loose, free-flowing goods.
Externally, normal bulk containers are of identical construction to standard containers except for the loading hatches and discharge outlets. The loading hatches or domes are arranged in the roof.

To gain access to these, some containers are provided with swivelable ladders. To prevent contact between the
cargo and the container walls, "inlets" or liner bags may be introduced into the containers and fixed in place.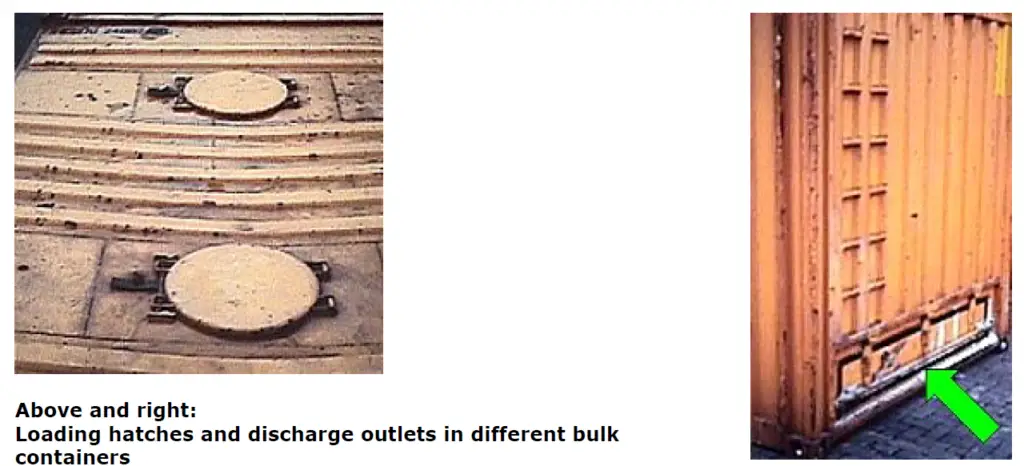 7.special dry bulk containers
Similar to the tank containers. In addition to emptying by gravity, some containers are available which may be emptied by means of compressed air.

8.Thermal containers
They are exclusivelyin use for shipment of perishable substances like fruits and vegetables over long distances.
How is made?
The container (reefer) floor is generally made of T-shaped aluminum profiles and is also known as a T-grating. The floor is strong enough to allow access by forklift trucks. The type code distinguishes between thermal containers according to type
of refrigeration unit and/or coefficients of heat transmission (k values).

9.Half-height open-top containers
are open at the top, as their name suggests. There are two types in existence:
either completely open or with a tarpaulin and roof bows. The rear door may often be fold down and use as a
ramp. Used especially for good like coal, stones etc which need easy loading and unloading.

10.Coil containers
Coil containers are built like flats or flatracks, i.e. they consist of a container floor and flat or frame-like end walls.
Structure

The container floor has cargo troughs for accommodating coils/rolls of steel sheet. Cargo securing costs are lower,
since less complex lashing and blocking is request than on/in normal containers.
Cost
When overall transport costs, including the return transport of empty coil containers, are taken into account, normal carriage without a special container may be more economical.

11.Tank containers
Tank containers are provided for carrying liquids and gases. The characteristics of the substances to be carried determine the material of which the tank is made, while the pressure under which the cargo has to be transported influences its construction.
Tank containers for non-dangerous liquids come under group code TN. Type codes T0, T1 and T2 distinguish
between minimum pressures of 45 kPa, 150 kPa and 265 kPa.

Tank containers for dangerous liquids come under group code TD. Type codes T3, T4, T5 and T6 distinguish between minimum pressures of 150 kPa, 265 kPa, 400 kPa and 600 kPa.