To satisfy the demand for crude oil for all the fields, the ship tankers, chemical tankers, have to carry an uncountable volume of oils every day.
To carry the crude oil and all derivate product in the best safety way, they use the inert gas system on board; to prevent an explosion from the gas generated inside the tanks.
Definition of Inert gas
According to the definition of the IMO, inert gas means "a gas or a mixture of gas containing insufficient oxygen to support the combustion of hydrocarbons."
What is the inert gas system?
The inert gas system is a series of fixed piping arrangement that blow inert gas into each cargo tank to reduce the oxygen content and render the tank atmosphere non-flammable.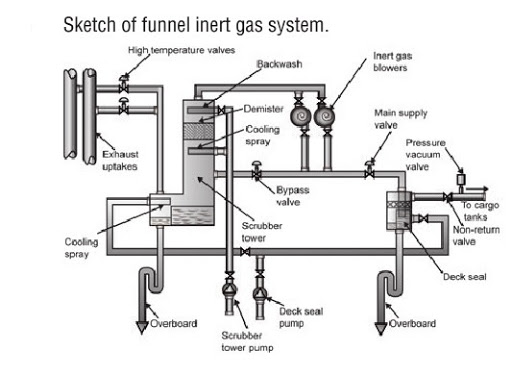 Inert gas system by Solas Convention (1974)
The SOLAS, as amended, specific requires for the inert gas system on board of the ships.
More specific: 
the inert gas system must be capable of delivering inert gas with oxygen content in their inter gas of not more than 5 % by volume.
Maintaining a positive pressure in the cargo tanks at all the times, with atmosphere with oxygen content not greater than 8% by volume.
Wich ships must be fitted with an inert gas system?
The first amendment by Solas on 1980 requiring that all tankers with a DWT more than 100.000 and upwards was the only one obliged.
Anyway, after one year the solas reduce to 20.000DWT.
To finish on 1 January 2016, the reduced further and require that the new build tankers 8.000DWT and over, constructed after this date, must be fitted with an inert gas system when carrying flammable cargoes.
USE OF INERT GAS ON CHEMICAL TANKERS
In the context of chemical tanker operations and chemical cargoes, an inert gas system may have three different benefits:
preventing a fire, 
preventing a chemical reaction 
Maintaining cargo quality.
USE OF INERT GAS ON GAS TANKERS
The inert gas on gas tankers is used for various purposes
.Drying and inerting of cargo tanks before cooling-down or after heating
Gas freeing and scavenging of cargo piping.
the topping-up of the cargo tanks to prevent the ingress of air.
Preventing a fire.
The safety benefits fo inert gas in cargo tanks are well recognised on the tankers industry.
Many lives have been lost, due to incidents involving fires and explosions on non-inerted tankers.
The effective use of the system, allied with training and the application of the correct procedures, prevents incidents involving fires and explosions in cargo tanks.
Read: AHTS VESSELS